Product Summary
The XC95144XL-7TQ144I is a 3.3V CPLD targeted for high-performance, low-voltage applications in leading-edge communications and computing systems. The XC95144XL-7TQ144I is comprised of eight 54V18 Function Blocks, providing 3,200 usable gates with propagation delays of 5 ns.
Parametrics
XC95144XL-7TQ144I absolute maximum ratings: (1)VCC Supply voltage relative to GND: –0.5 to 4.0 V; (2)VIN Input voltage relative to GND: –0.5 to 5.5 V; (3)VTS Voltage applied to 3-state output: –0.5 to 5.5 V; (4)TSTG Storage temperature (ambient): –65 to +150 ℃; (5)TSOL Maximum soldering temperature (10s @ 1/16 in. = 1.5 mm): +220 ℃; (6)TJ Junction temperature: +150 ℃.
Features
XC95144XL-7TQ144I features: (1)5 ns pin-to-pin logic delays; (2)System frequency up to 178 MHz; (3)144 macrocells with 3,200 usable gates; (4)Available in small footprint packages; (5)Optimized for high-performance 3.3V systems; (6)Advanced system features; (7)Fast concurrent programming; (8)Slew rate control on individual outputs; (9)Enhanced data security features; (10)Excellent quality and reliability; (11)Pin-compatible with 5V-core XC95144 device in the 100-pin TQFP package.
Diagrams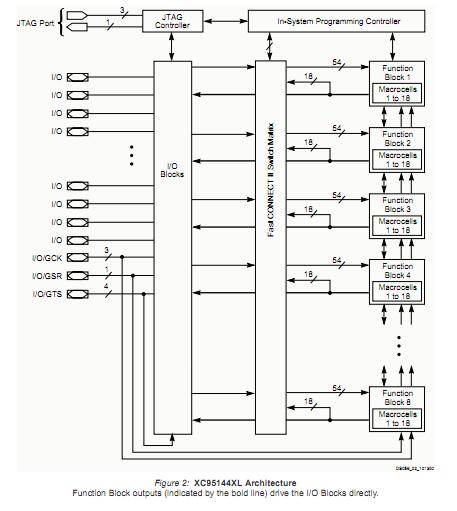 Image
Part No
Mfg
Description
Pricing
(USD)
Quantity

XC95144XL-7TQ144I



IC CPLD 144MCELL 7.5NS 144TQFP

Data Sheet


Image
Part No
Mfg
Description
Pricing
(USD)
Quantity

XC9500

Other



Data Sheet

Negotiable

XC9500XV

Other



Data Sheet

Negotiable

XC9501

Other



Data Sheet

Negotiable

XC9502

Other



Data Sheet

Negotiable

XC9503

Other



Data Sheet

Negotiable

XC9503B093AR-G



IC REG BUCK ADJ 1A DL 10MSOP

Data Sheet



| | |
| --- | --- |
| 0-1: | $1.19 |
| 1-10: | $1.07 |
| 10-25: | $0.96 |
| 25-100: | $0.86 |
| 100-250: | $0.77 |
| 250-500: | $0.67 |