Product Summary
The AXK7L24223G is a narrow pitch connector. Its applications include mobile devices, such as cellular phones, digital still cameras and digital video cameras.
Parametrics
AXK7L24223G absolute maximum ratings: (1)Rated current: 0.3A/pin contact; (2)Rated voltage: 60V AC/DC; (3)Breakdown voltage: 150V AC for 1min.; (4)Insulation resistance: Min.1000MΩ; (5)Contact resistance: Max. 90mΩ.
Features
AXK7L24223G features: (1)0.9mm mated height low profile two-piece connectors; (2)Strong resistance to adverse environments; (3)Improved mating strength between the socket and header; (4)Easy to design product circuits.
Diagrams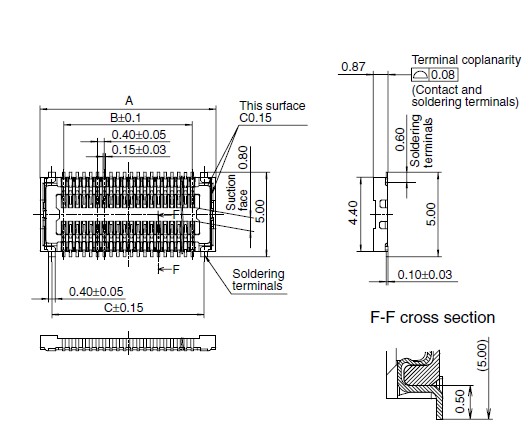 Image
Part No
Mfg
Description
Pricing
(USD)
Quantity

AXK7L24223G



CONN SOCKET FPC .4MM 24POS SMD

Data Sheet



| | |
| --- | --- |
| 0-1: | $2.11 |
| 1-10: | $1.75 |
| 10-100: | $1.29 |
| 100-500: | $1.03 |

Image
Part No
Mfg
Description
Pricing
(USD)
Quantity

AXK7

Other



Data Sheet

Negotiable

AXK700117G

Panasonic Electric Works

Board to Board / Mezzanine Connectors CONN SOCKET BRD/BRD 100 POS 0.4mm

Data Sheet



| | |
| --- | --- |
| 0-1500: | $3.68 |
| 1500-2076: | $3.68 |


AXK700125J

Panasonic Electric Works

Board to Board / Mezzanine Connectors Use AXK700127G

Data Sheet

Negotiable

AXK700125V

Panasonic Electric Works

Board to Board / Mezzanine Connectors Use AXK700127G

Data Sheet

Negotiable

AXK700127G

Panasonic Electric Works

Board to Board / Mezzanine Connectors

Data Sheet



| | |
| --- | --- |
| 0-2061: | $7.34 |
| 2061-2500: | $7.07 |
| 2500-3000: | $7.07 |


AXK700135J

Panasonic Electric Works

Board to Board / Mezzanine Connectors Use AXK700137G

Data Sheet

Negotiable