Product Summary
The LM1815 is an adaptive sense amplifier and default gating circuit for motor control applications. The LM1815 provides a one-shot pulse output whose leading edge coincides with the negative-going zero crossing of a ground referenced input signal such as from a variable reluctance magnetic pick-up coil. Applications of the LM1815 are (1)position sensing with notched wheels; (2)zero crossing switch; (3)motor speed control; (4)tachometer; (5)engine testing.
Parametrics
LM1815 absolute maximum ratings: (1)Storage Temperature Range: -65°Cto a150°C; (2)Junction Temperature: 125°C; (3)Input Current : 30 mA; (4)Lead Temperature (Soldering, 10 sec.): 260°C; (5)Supply Voltage: 12V; (6)Power Dissipation: 1250 mW; (7)Operating Temperature Range: -40°Cto 125°C.
Features
LM1815 features: (1)Adaptive hysteresis; (2)Single supply operation; (3)Ground referenced input; (4)True zero crossing timing reference; (5)Operates from 2V to 12V supply voltage; (6)Handles inputs from 100 mV to over 120V with external resistor; (7)CMOS compatible logic.
Diagrams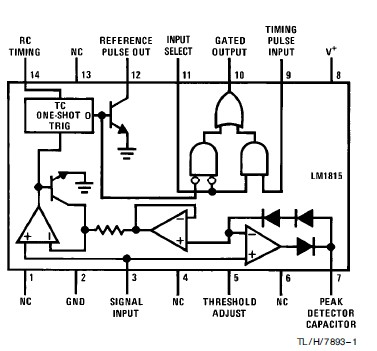 Image
Part No
Mfg
Description
Pricing
(USD)
Quantity

LM1815

Other



Data Sheet

Negotiable

LM1815M

National Semiconductor (TI)

Special Purpose Amplifiers

Data Sheet



| | |
| --- | --- |
| 0-275: | $1.36 |
| 275-550: | $1.22 |
| 550-1045: | $0.97 |
| 1045-5005: | $0.94 |


LM1815M/NOPB

National Semiconductor (TI)

Special Purpose Amplifiers ADAPTIVE VARIABLE RELUCTANCE SENSR AMP

Data Sheet



| | |
| --- | --- |
| 0-1: | $2.05 |
| 1-25: | $1.65 |
| 25-100: | $1.50 |
| 100-250: | $1.36 |


LM1815MX

National Semiconductor (TI)

Special Purpose Amplifiers

Data Sheet



| | |
| --- | --- |
| 0-2500: | $0.97 |
| 2500-5000: | $0.94 |


LM1815MX/NOPB

National Semiconductor (TI)

Special Purpose Amplifiers

Data Sheet



| | |
| --- | --- |
| 0-1890: | $0.97 |
| 1890-2500: | $0.97 |
| 2500-5000: | $0.94 |


LM1815N

National Semiconductor (TI)

Special Purpose Amplifiers

Data Sheet



| | |
| --- | --- |
| 0-250: | $1.43 |
| 250-500: | $1.28 |
| 500-1000: | $1.03 |
| 1000-5000: | $0.99 |


LM1815N/NOPB

National Semiconductor (TI)

Special Purpose Amplifiers

Data Sheet



| | |
| --- | --- |
| 0-1: | $2.17 |
| 1-25: | $1.75 |
| 25-100: | $1.58 |
| 100-250: | $1.43 |