Product Summary
The TDA7297 is a dual bridge amplifier specially designed for TV and Portable Radio applications.
Parametrics
TDA7297 absolute maximum ratings: (1)Vs, Supply Voltage: 20V; (2)IO, Output Peak Current (internally limited): 2A; (3)Ptot, Total power dissipation (Tcase = 70℃): 30W; (4)Top, Operating Temperature: 0 to 70℃; (5)Tstg, Tj, Storage and Junction Temperature: -40 to 150℃.
Features
TDA7297 features: (1)wide supply voltage range (6V-18V); (2)minimum external components: no swr capacitor; no bootstrap; no boucherot cells; internally fixed gain; (3)stand-by & mute functions; (4)short circuit protection; (5)thermal overload protection.
Diagrams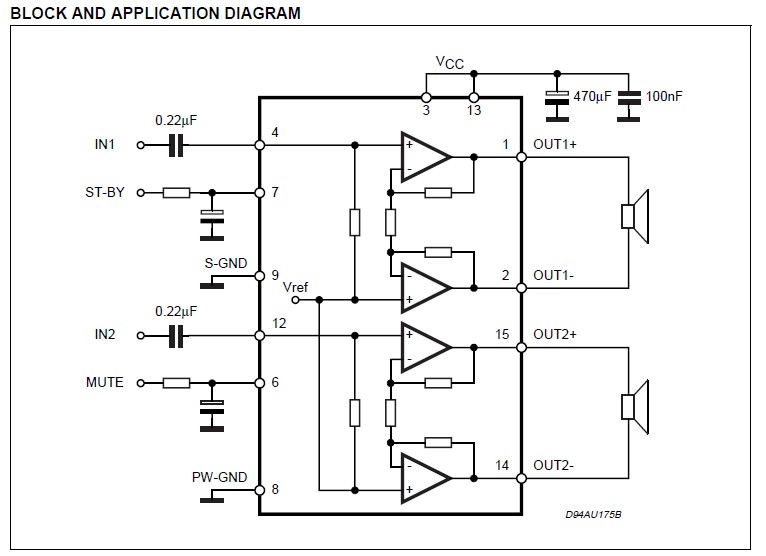 Image
Part No
Mfg
Description
Pricing
(USD)
Quantity

TDA7297

STMicroelectronics

Audio Amplifiers 15W Dual Bridge Amp

Data Sheet



| | |
| --- | --- |
| 0-1: | $2.56 |
| 1-10: | $2.08 |
| 10-100: | $1.85 |
| 100-250: | $1.65 |


TDA7297D

STMicroelectronics

Audio Amplifiers 10W/10W DUAL BRIDGE AMP

Data Sheet

Negotiable

TDA7297D13TR

STMicroelectronics

Audio Amplifiers 10W/10W DUAL BRIDGE AMP

Data Sheet

Negotiable

TDA7297SA

STMicroelectronics

Audio Amplifiers 10W, 10W Dual Bridge 6V - 18V Portable

Data Sheet



| | |
| --- | --- |
| 0-1: | $1.12 |
| 1-10: | $0.90 |
| 10-100: | $0.81 |
| 100-250: | $0.73 |